SpaceMates Online – Tuesday 12th Janaury 2021, 10 am – 11 am (UK GMT)
January 12 - 10:00 am - 11:00 am
SpaceMates Online – space networking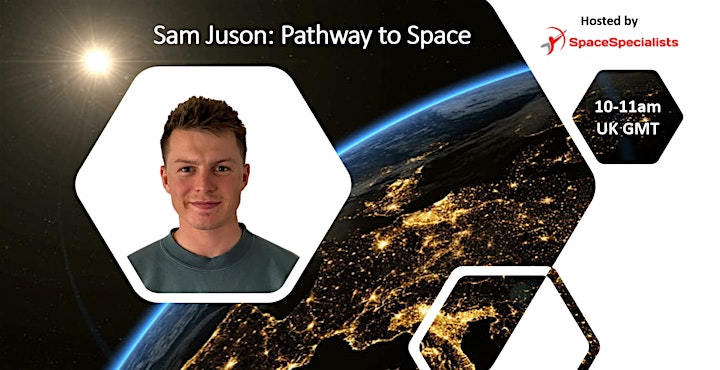 SpaceMates Online – regular networking to connect the UK, Australian and global Space sectors
Welcome to SpaceMates Online, a FREE EVENT and the antidote to one-way webinars.
Regular online B2B & B2C networking for the Space sector! We'd love you to join our next event on Tuesday 12th January 2021
10 am – 1 1 am UK GMT (London)
11 am – midday CET (Paris)
8 pm – 9 pm Australian AEST (Brisbane)
8.30 pm – 9.30 pm Australian ACDT (Adelaide)
9 pm – 10 pm Australian AEDT (Melbourne, Sydney)
A fun and productive way to connect and network B2B & B2C with space industry businesses.
Both Upstream (satellite, launcher and ground segments) as well as the Downstream (products and services from space) companies are welcome.
An informal place to network and relax, a place of cheer and inspiration.
• Introduce yourself
• Interviews
• Networking
• Q&A
This Tuesday 12th January 2021, SpaceMates Online our interview guest is Sam Juson who is talking about his pathway to space!
At the beginning of his senior career, what Sam lacks in industry experience he by far makes up for in enthusiasm, motivation and commitment to his projects!
Sam is a versatile first-class Aerospace Engineering graduate currently studying an MSc in Astronautics and Space Engineering at Cranfield University, with a keen interest towards mission analysis and rocket propulsion.
Leadership, management, and communication are skills that he boasts excellent success in; developed through his time as Co-President at CranSEDS and operating as an ROCC qualified Air Ground Controller.
He gained relevant industry experience in Hybrid Rocket Engine design through a SPIN Internship at Smallspark Space Systems in association with the UK Space Agency, and as an Orbital Engineer with Asteria: Space & Satellites.
His university modules have provided him with in depth knowledge of space propulsion systems, astrodynamics, and mission analysis, as well as project management experience with a desire to produce exceptional results.
SpaceMates Online is a FREE EVENT you will receive an invitation to the online meeting via Zoom and Eventbrite.
By strengthening the Space Industry network now, we'll be ready for blast-off once restrictions are ended.
Ray Stott from SpaceSpecialists Ltd hosts the event.