ASTRONAUT SKILLS FOR THE 21ST CENTURY – Live online astronaut training
May 21 - 11:00 am - 12:30 pm
Join us for live online astronaut training where you will learn the skills to deal with crisis, uncertainty and the new world that awaits us
The World is going through extreme and sudden changes, not only due to the pandemic but also due to new technologies, climate change, political shifts and of course settling humanity to the Moon and Mars. This course focuses on the new space age, astronaut training and the skills you need to comfortably face the challenges of today and the uncertainties of tomorrow.
Space Nation offers 5 live online lessons with group workshops, Q&As and assignments on astronaut training and astronaut skills for the 21st century led by global leaders (May 21st to June 4th). This course is designed for anyone who wants to understand the new space age and how astronaut training can help in your everyday life as well on Earth as in space. You will learn how to plan for the unknown, adapt to new realities and see the World from a different perspective – the astronaut perspective.
You will join a community of like-minded pioneers, have an opportunity to connect and collaborate with aspiring people around the world attending the course.
Special 50% introductory discount from our normal price of $394.
Your Experts And Guides
This is a unique opportunity to interact directly with a former NASA astronaut that has lived on the ISS and flown in the space shuttle program and led the Center for Advancement of Science in Space (CASIS) at NASA Gregory "Box" Johnson, a former NASA head of geology from the Mars Rover programs who spent 15 years operating on the Red Planet Dr. Jim Rice, as well as Stephan Reckie, who is the Executive Director of GEN Space, a global community of astropreneurial ecosystems, where he pulls together space company founders in a world where the space divide still exists.
Your host will be Space Nation's Chief Communications & Missions Officer Hjörtur Smárason.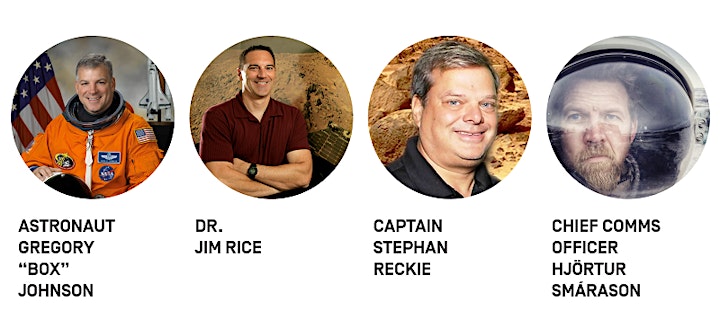 5 Live Online Lessons With Workshops
Each session is 90 minutes, consisting of information shared from the experts, group sessions for the participants and live Q&A with the speakers. Time for the lessons is 10am PT / 11am MT / 12pm CT / 1pm ET / 7pm CET.
Lesson 1 Thursday 21st
THE NEW SPACE AGE
Lesson 2 Tuesday 26th
A DIFFERENT WORLD: LIVING ON MARS – AND SETTLING SPACE
Lesson 3 Thursday 28th
ADAPTABILITY AND THE VALUE OF EXPEDITIONARY SKILLS!
Lesson 4 Tuesday 2nd
REDISCOVERING EARTH: THE OVERVIEW EFFECT AND THE ASTRONAUT MINDSET
Lesson 5 Thursday 4th
CRISIS MANAGEMENT, SCENARIOS AND PLANNING FOR THE UNKNOWN
Requirements
No previous experience or subject matter knowledge is required to join. The course is built so you will learn through from experts in addition to sharing collective knowledge and experience in engaging workshops and group assignments.
Live sessions are conducted on Zoom-video conference calls.